Amulya asked about a post to gather all the costume entries for the Pink Turkish costume. It is also an excellent opportunity to show you pictures of the finished costume. I have worn this costume six times since I finished it and it is holding up great. I'm a little bit concerned about the holographic foil print turning silver over time, but so far, so good. I haven't written about making the accessoiries: there is a matching upper arm band and a triangular hand decoration. They were fairly easy: I used a paisley medallion, added to a strip of fabric and edged in beads/sequins. The necklace is my multi-color butterfly necklace that also matches my Pharaonix butterfly. Come to think of it, it matches most of my costumes as it is multi-color. I highly recommend investing in a multi-color jewelry, as it creates an extra bit of visual interest. Rhinestone jewelry just didn't cut it for this costume.
This is a picture of our duet. Hadyr is wearing the Bella I sold her earlier this year, which was the reason why I needed a costume to match it's magnificent blingy-ness. Picture by Merijn van der Vliet: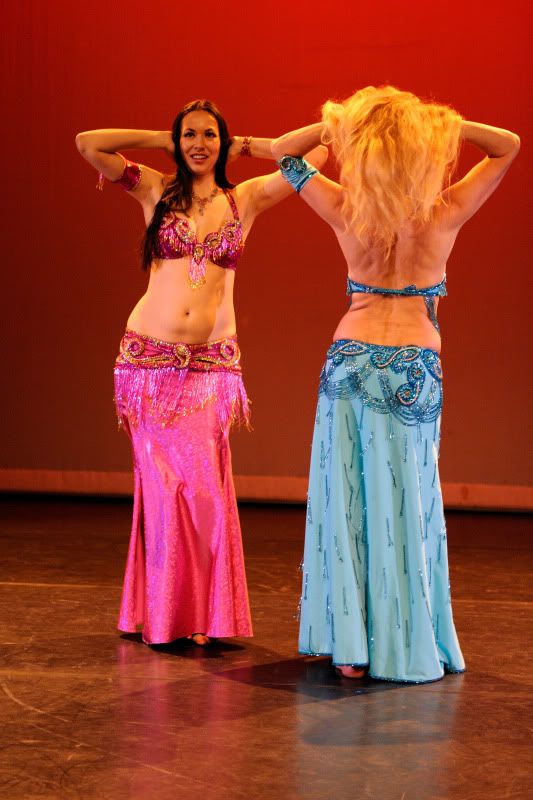 And here's a close-up from a later show in Bussum. Picture by Michael van Schijndel: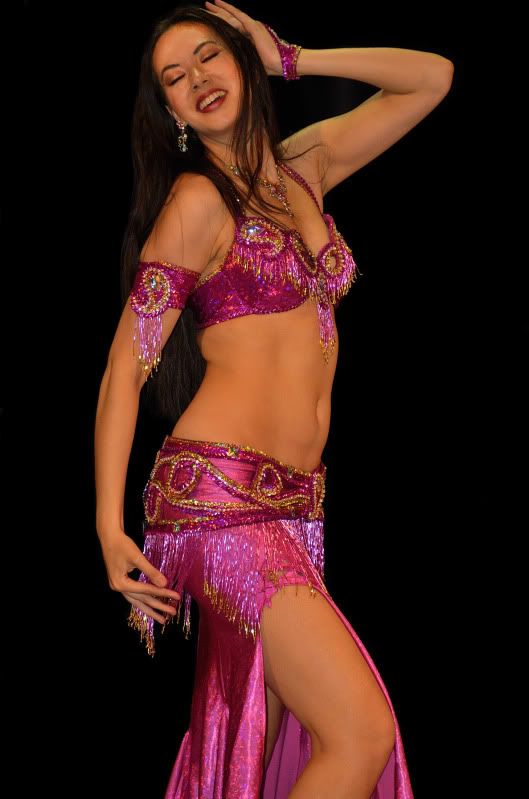 And here is a rather dark video of our duet, taken at a hafla in Wageningen.
The history:
1 -
feb 20th: The materials
2 -
feb 21th: belt pattern and base
3 -
feb 22th: covering the belt base
4 -
feb 24th: rhinestones everywhere
5 -
feb 25th: paisley medallions
6 -
feb 26th: Vanilla glitter
7 -
mar 7th: a whole lot of bling
8 -
mar 22th: Fringe!
9 -
mar 24th: help me pick a skirt
10 -
mar 29th: the bra base
11 -
mar 31th: covering the bra
12 -
april 7th: beading and fringe on the bra