Roos Belinfante posted the pictures and video's of the studentrecital from two weeks ago. It was a SUnday afternoon well-spent, with gorgeous performances and a good atmosphere. If you want to experience some of that good atmosphere yourself, check out
Roos's website
for her mini summer workshops. If you want to make some good memroies, go to
'Bellydance on the Beach'
, an event on august 24th in Utrecht with an outdoor workshop and performances.
For the student recital I did a spanish-arabic skirt dance to Ya Ghanilek from the cd ' A rough guide to Spanish-Arabic Music'. IT's a really nice song with some intersting variations in the music. I made a choreo for my students during the last semester of classes that I decided to use as a skeleton choreography for my own performance. Mostly improv, with some nice poses thrown in all over the place. Maybe I should make a full blown choreography out of this one and add it to my permanent repertoire.
The costume is my gold/multicolor bella, with an extra double layer pink chiffon skirt on top. I pulled the specially requested streamers with multicolor leafs over the outer skirt for an extra color accent. The layers work well well on stage, the bella skirt is also two layers so there is this big fluffy bunch of chiffon moving around with every spin.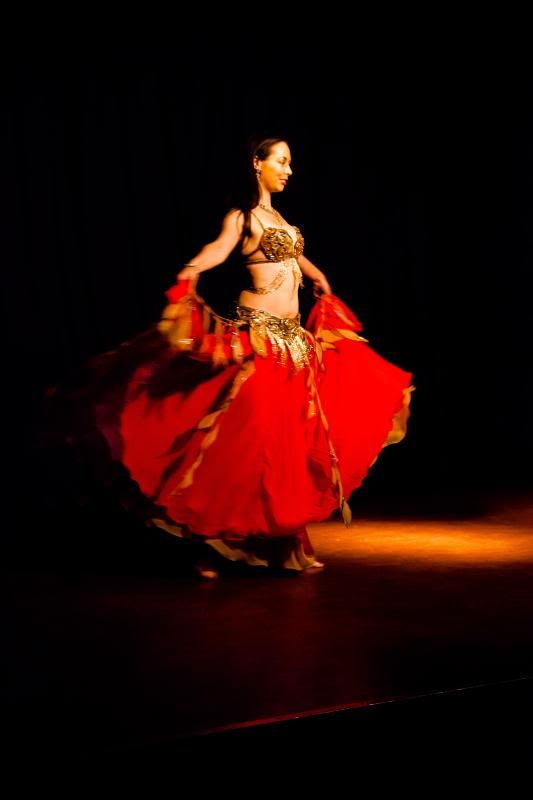 Drama, I HAZ IT!!: